Your Biola ID card not only serves as a means of identification, but also enables you to access a variety of university services including campus dining, copying & printing, and retail purchases in the Biola Store. To access these services, you must first load funds onto a debit account on your Biola ID card. Students add funds to 'Student$' while Employees add funds to 'Faculty n Staff'.
eAccounts is a software application Biola uses to manage the debit accounts available on Biola ID cards. Users can make real-time deposits online, save a preferred credit card* for quicker reloads, and set up recurring deposits. You may also view your current balance, transaction history, meal plan use, or freeze your ID card if it is misplaced.
*Please note we do not accept American Express at this time. All other major credit cards are accepted.
Adding Funds to Your ID Card
Go to https://biola-sp.blackboard.com/eaccounts You will use your NetID and password to login
Click on the appropriate account type to view a summary. Click '+Add Money' to deposit additional funds.
You can choose to add a specific amount or top-off your balance.
Enter Credit Card payment info. You may choose to save this info for future use.
The confirmation page allows you to specify where you would like your receipt e-mailed.
Now that your eAccount has been set-up, you can download the Android app or iOS app to manage your funds on the go! NOTE: This is optional; you may continue to use the website to add funds.

After you have downloaded and opened the app, select "Biola University"
Log-in with your NetID name and password
Adding Funds to Someone Else's Card
We often have parents, grandparents, and friends asking how they can put money on a student's ID card. We've got that covered too! Simply head to the same website, https://biola-sp.blackboard.com/eaccounts and click the button to 'Add funds to someone's account'. All you will need is the recipient's Biola e-mail address. You can even choose to have a confirmation e-mail sent to them so they know you've sent them a gift.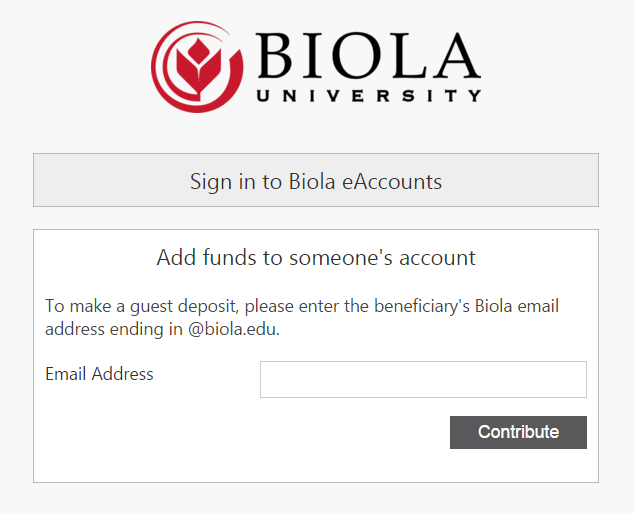 Prefer to load your Biola ID card in person?
Student dollars and Faculty/Staff dollars can also be purchased in-person with cash or credit card at the self-serve kiosks in the Library and at any of the Bon Appetit food service facilities.
Categories:

Topics:

From:

Last Updated:

November 20, 2017