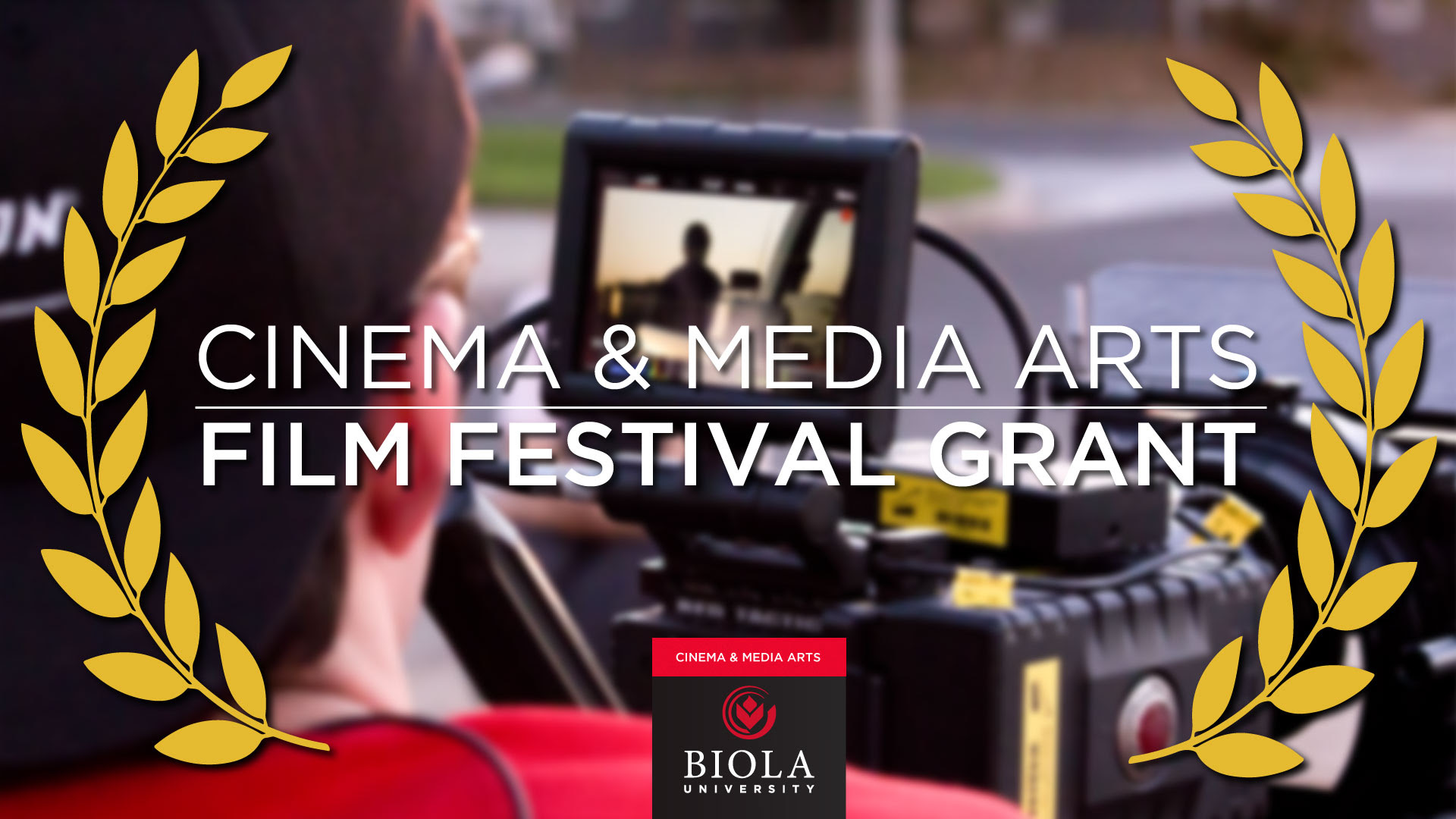 Apply
The School of Cinema and Media Arts is pleased to announce grants of up to $500 for selected student and alumni films for use toward film festival submission costs.
In addition to the grant, the award includes:
Regular meetings with CMA Film Festival Coordinator, Camille Tucker.
Feedback on the submitted film.
Coordination and guidance in the submission of the film to film festivals.
Guidance in implementing a film festival submission checklist, calendar, marketing plan and EPK (electronic press kit).
Submission tracking support.
A film festival acceptance survival guide.
A film festival acceptance marketing plan.
For more information see guidelines below.
*NOTE: Grants are not associated with completing films for the CMA Student Film Festival.
Rules and Regulations
Purpose: The Film Festival Grant is for the support of film festival submissions by Biola students and alumni.
Guidelines
Note that films that have been distributed or displayed publicly (including on social media outlets such as YouTube and Vimeo) are usually not eligible for film festival submissions. Films that have had private screenings are usually eligible for festival submissions.
For consideration, films must be scheduled for completion at least one month prior to the end of the semester, November 20 for Fall and April 20 for Spring.
Films must have been completed no earlier than twelve months prior to the grant application.
Filmmakers must submit a completed grant application from.
Filmmakers must also submit a completed short film or a rough cut with temp music and titles to Camille Tucker via password protected YouTube, Vimeo or Google Drive link. (Note: If a film is not completed, wait until the following semester to submit a grant application.)
Grants are for $50-$500 each depending on final festival submission plan.
Grants will be awarded to a maximum of 10 filmmakers each semester
DEADLINE FOR FILM SUBMISSIONS IS FRIDAY, FEBRUARY 24, 11:59 p.m.
If your film is selected in the first round, you will be called in for an in-person interview the week of March 6, day & times to be arranged.
Final decisions will be announced Monday, March 13, 2017.
Grant guidelines are subject to change without notice.
Categories:

Degrees and Programs:

From:

Last Updated:

November 28, 2018