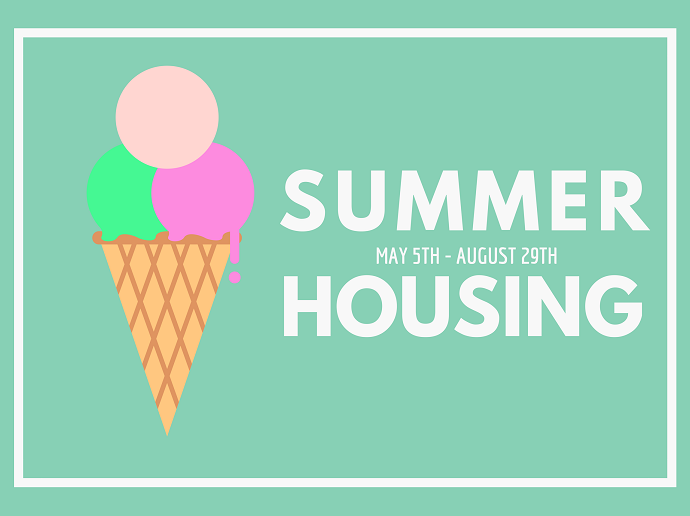 ---
Who Can Live in Summer 2018 Housing
Summer housing is available to unmarried undergraduate students who are continuing students pre-registered for the upcoming fall semester. (Summer housing is not available to students who graduated or withdrew at the end of the spring semester or to incoming students starting classes in the upcoming fall semester.)
Sign-up Dates
Sign-ups will be open on MyHousing April 1–May 1: Applications > Summer Housing 2018.
If you signed up and need to cancel, do so before 4 p.m. on May 1, 2018 to avoid the $100 cancellation fee.
---
Price
Summer housing costs $11.11 per day or a total of $1,300 for the entire summer term, May 5–August 29, 2018. (That's less than $350 per month for a furnished room that includes utilities!!! How could you not live here?!)
Your student account will be billed for your entire stay based on your contracted check-in and check-out dates. This amount will be due in full by May 1, 2018.
Location
Summer housing rooms are double-occupancy. Summer housing will be located in Hart Hall, a two-story community with community bathrooms and laundry rooms and a refreshing courtyard great for lounging. (If Hart Hall is unavailable, a portion of Stewart Hall will be used.)
Occupancy/Furniture
You will have at least one roommate for a portion or all of your summer stay. If you know someone who is staying in summer housing, you can request them as your roommate on the application. If you do not, you will be assigned a roommate (or two different roommates if they are staying for separate dates). Only double-occupancy rooms are offered for summer. All furnishings must remain in the room.
Check-In
Saturday, May 5: 2pm-5pm, 8pm-11pm or Sunday, May 6, 2018 from 8–10 a.m. AT HART HALL LOBBY
Student's with spring assignments must checkout of their spring hall or apartment by 10 a.m., Sunday, May 6. (No exceptions for late checkouts from spring housing are permitted.)
Summer housing check-in will be held at the Hart Office.
If you plan to move in after this initial check-in period, email summer.rcs@biola.edu to schedule a specific check-in appointment with a summer housing coordinator. (The final date students may schedule to check in to summer housing is Sunday, July 15, 2018.)
Check-Out/Moving to Fall Housing
For your check-out date, you must schedule a specific check-out time in advance with one of the summer resident coordinators by emailing summer.rcs@biola.edu. At your check-out time you will return your room key. All of your belongings must be removed from the building and the room thoroughly cleaned and emptied according to the check-out checklist provided by a summer resident coordinator. Failure to do any of these steps will result in fines.
If you do not have a fall 2018 housing assignment, the absolute final date of summer housing is Saturday, August 18, 2018 from 9 a.m.–12 p.m. (No exceptions will be made for late stays, so plan ahead.)
If you do have a fall 2018 housing assignment you will move to your fall room on Saturday, August 18, 2018 between 9 a.m.–12 p.m. for the final two weeks of the summer term (August 18–29) billed at the summer daily rate. (No exceptions will be made for early or late moves, so plan ahead.
Cancelling
You must email undergrad.housing@biola.edu before 4 p.m. on Tuesday, May 1, 2018 in order to receive a full refund. If you are a no-show on your scheduled check-in date your room will be cancelled and account will be billed $100.
Changing Dates
If you need to change your contracted check-in/check-out dates you must contact Housing Services for approval in advance. If your arrival or departure date change is approved, your student account charges will be adjusted.
Standards
Biola Community Standards are in effect, including Open House hours. Violation of these standards may result in permanently being removed from on-campus housing. Students who allow friends to stay with them for more than three nights will be fined up to $500 per week their friend was believed to have stayed.
Guests
A Guest Registration Form must be completed for anyone staying overnight. You are permitted a maximum of three nights for overnight guests during summer. Your roommate must approve of your plans for guests in advance, so be sure to speak with them prior to inviting someone to stay over one of your three permitted nights. Guests of the opposite gender will not be permitted to stay over.
Meal Plans
Summer meal plans are optional. (See prices below.) To sign up for a summer meal plan, fill out the Summer Meal Plan Request Form online.
Summer meal plans will begin Monday, May 7. If you need to change your summer meal plan, email Dining Services at dining.services@biola.edu. The Hart Hall kitchen is available for your use 24 hours a day.
| Meal Plan | Cost |
| --- | --- |
| 5 Meals Per Week Plan | $5.15/day |
| 10 Meals Per Week Plan | $9.46/day |
| 12 Meals Per Week Plan | $9.95/day |
| 15 Meals Per Week Plan | $10.65/day |
| 20 Meals Per Week Plan | $11.52/day |
| 10 Block Plan | $75 |
| 20 Block Plan | $150 |
| 30 Block Plan | $225 |
| 40 Block Plan | $300 |
Mail
If you want to receive mail during summer and haven't signed up for a summer mailbox, make sure you visit Mail and Parcel Services next to Common Grounds to sign up for one.
Parking
If you have a vehicle on campus during summer you will need a permit different than the permit you were able to use during the spring semester. Visit the Campus Safety Office by Café Biola to find out more information.
Bicycles
If you are commuting to campus via bicycle over the summer, your bicycle must be registered with Campus Safety (free service) and may not be kept on campus overnight or on the weekends. Bicycles found on campus during these times or that do not have a permit will be collected by Campus Safety and kept for a period of 90 days before they are donated to a local charity. Contact Campus Safety for instructions and more information.
Storage
Biola does not offer storage for student belongings over summer break, but there are several local storage facilities that may offer discounts to Biola students.
Some of these providers include the following:
Some students may choose to rent a storage space together to share the cost.
Biola does not endorse any of these organizations, and students are advised to do business with them at their own risk.
Categories:

Topics:

From:

Last Updated:

April 19, 2018